Moreland Middle School Electives 2018-2019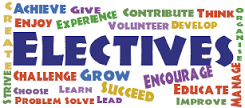 Most students take two electives per year. Priority for selecting electives is given to eighth graders first, followed by seventh, and then sixth graders. Sixth graders are assigned an elective the first semester.
Let's Get Cooking
Students will learn important health and nutrition skills so that they can prepare their own recipes! Practicing Safety Rules & Measuring Techniques will ensure that our recipes turn out their best. Get ready to cooperate with your Kitchen Group members to prepare some delicious and nutritious recipes such as Smoothies, Snack Pizzas, Omelets, Chili, Fresh Salsa and Homemade Chips, even Cookies, Brownies and much more. We will also learn how our recipes help you grow and develop properly, prevent disease & help your brain to function at its best so that you can do better in school!
International Cuisine
Explore the world at your kitchen table! Students will learn how and why people in other cultures choose the foods they do, and will then prepare their own international cuisine! Learn about the origins of your favorite foods and experience some new tastes as we discover more about what connects all people - food!
Design & Modeling
Students learn math concepts to solve problems and practice using the engineering design process to create new designs. Our first project is designing the ultimate student desk. Students will also learn different engineering drawing styles such as orthographic & isometric projection. Using Autodesk® design software, students will also create a virtual image of their designs and produce a portfolio to showcase their innovative solutions.
Automation & Robotics
Students begin the semester by learning the history of robotics and engineering. Students when then use math concepts with the VEX Robotics® kits to learn how to build ten basic gear mechanisms. After, they will work on projects like designing and building their own pull-toys. By the end of the semester they will begin to learn programming so they can add a motor to their machines!
Introduction to Computer Science 1
Studies show that by 2018, 1.4 million job openings will be available for computer specialists. In this unit, students discover the principles of this fast-growing field by focusing on creativity and an iterative design process as they create their own basic apps using MIT App Inventor.
Band
Band course offerings include Percussion Ensemble (for drummers/percussionists), Concert Band (a beginning/intermediate level ensemble comprised primarily of students in the 6th and 7th grade), Symphonic Band (an intermediate/advanced level ensemble comprised primarily of students in the 7th and 8th grades), and Cadet Band (for students with two years or less experience on a band instrument).
Orchestra
Orchestra course offerings include Concert Orchestra (for students with three years or less experience on a string instrument), and Symphonic Orchestra (an intermediate/advanced level ensemble comprised primarily of students in the 7th and 8th grades).
Yearbook
Are you interested in photography? Would you like to help design the school yearbook? Are you interested in going to different events (sports, dances, spirit activities) to photograph our wonderful Moreland Mustangs? If so, you'd be perfect for our year-long Yearbook Elective!
Theatre Arts
Theatre Arts is a creative, hands-on class in which you participate in a variety of performance activities. Throughout the class, we play theatre games, perform improvisations, engage in physical activities, and participate in role playing. There are regular in-class performances from movies such as The Wizard of Oz, Shrek, Monty Python and plays from Vaudeville, Commedia dell Arte and Shakespeare. In addition, we study pantomime, clowning, stand-up comedy, theatre vocabulary, slam poetry and circus techniques. Theatre Arts teaches you communication skills and challenges you to think critically and imaginatively while improving your confidence and expression. Each semester's curriculum is different and offers new activities, assignments and challenges.
Theatre Production
In Theatre production you will engage in the full process of producing a play. You will begin with auditioning for the play. Once your role has been assigned, you begin the planning stage of designing all aspects of the performance from scenery to props to costumes to light and sound cues. Then, the process of rehearsing the play for performance begins. After an intensive rehearsal period, you will perform the play for a live audience. You will perform two or three full length plays throughout the semester.
2 Dimensional Art
This course introduces students to the basic elements of Visual Design (line, shape, form, color, texture, value and space). They explore a variety of materials and techniques as they learn drawing, painting and printmaking. Students also expand their visual literacy as they view and analyze works of art from different time periods and different cultures. Along with the technical side of art making, the students are challenged to use their creativity and problem solving skills to create unique works of art.
3 Dimensional Art
This course introduces students to a variety of sculptural techniques and materials. These may include wire, paper mache, fabric, clay and plaster. Students also learn about the Basic Elements of Visual Design. They look at examples of sculptural art from a variety of time periods and cultures to widen their knowledge and appreciation. Most importantly, the students use their imagination and problem solving skills to build personal works of art.
Student Leadership
Students will have the opportunity to develop their effectiveness as a leader throughout this year long class. We will coordinate and participate in school activities. You will be instrumental in planning school-related activities such as spirit events, dances, intramural tournaments, and community service events. All activities are designed to enhance a student's communication skills, managerial skills, human relations skills, and overall self-awareness.